AK47-Knife Black is a reskin of the AK47-Knife.
Overview
It features the same skin as the standard AK47-Scope. The gun has no additional bullets, than the standard AK47 Knife.
Availability
CF Brazil
CF Vietnam
CF North America
CF Philippines
CF Indonesia
Trivia
By being the first official update of the Latin version of crossfire, the AK47 Knife Black and AK47 Scope Black (AK47 Elite) are the rarest weapons in this version, it is believed that there are less than 2,000 of them, and only 600 are in the hands of active users. Since this gun is only available via Attendance System reward (weekend box) in CF Vietnam, it's even rarer as this reward box is not obtainable via convenience methods - only lucky players who won it can use this gun for 3 days.
Gallery
Videos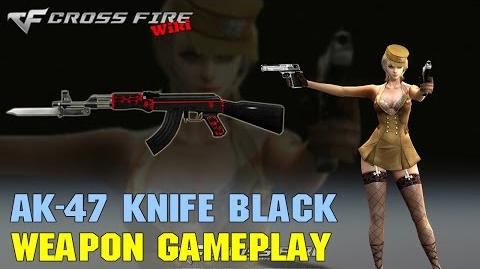 Ad blocker interference detected!
Wikia is a free-to-use site that makes money from advertising. We have a modified experience for viewers using ad blockers

Wikia is not accessible if you've made further modifications. Remove the custom ad blocker rule(s) and the page will load as expected.