AK47-Phoenix is an assault rifle variant of AK47 that featured in CrossFire.
Overview
The AK47-Phoenix is a modification of AK47 that able to hold 35 rounds of 7.62x39mm ammunition per magazine and a slight enhanced accuracy. It has a flaming phoenix paint job to increase the value and to make it looks fierce. There is no other statistical differences with the original weapon.
Availability
CF China
CF Japan
CF Vietnam
CF Philippines
CF Indonesia
CF North America
CF Europe
CF Brazil
CF Español
CF Korea
Trivia
AK47-Phoenix is the first weapon to use a new low-polygoned model of AK-47. This new model was copied from Type-56, with the removal of the unusable foldable-bayonet.
After AI Mode 2 updated in CrossFire VN, this gun has 2 variants: permanent and temporary, but the interesting thing is the temp variant has a true stats of AK47, and before it, CrossFire VN just has 6 original AK-47 variants: Scope, Black Stripes, Red Dragon, WCG, WEM and CFS. Almost AK-47 had been nerfed in CrossFire VN, included AK47-VIP.
Gallery
Videos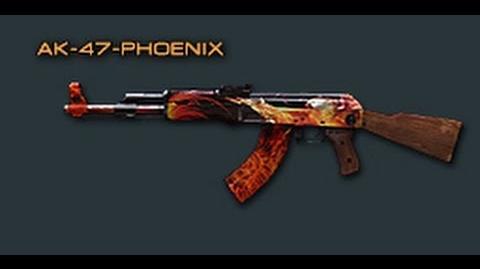 Ad blocker interference detected!
Wikia is a free-to-use site that makes money from advertising. We have a modified experience for viewers using ad blockers

Wikia is not accessible if you've made further modifications. Remove the custom ad blocker rule(s) and the page will load as expected.