AK47-WEM is a limited edition assault rifle variant of AK47 that featured in CrossFire.
Overview
This weapon was available during World E-Sports Masters tournaments.
AK47-WEM is an AK47 with WEM's logo on it and has the standard statistics of the original AK47. It allow the WEM players to practice and use it before the tournament takes place. It has lower spare magazine for balance reasons.
Availability
CF Vietnam
CF China
CF North America
Trivia
This gun, has inconsistency ammo capacity in CF Vietnam. It has 30/60 in all modes and 30/90 in Mutation Mode and variants.
Gallery
Videos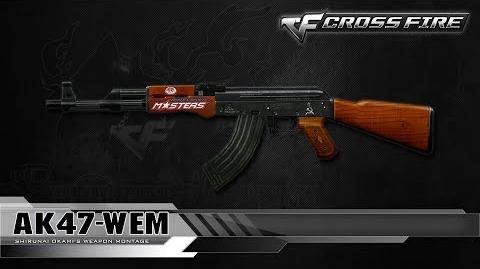 Ad blocker interference detected!
Wikia is a free-to-use site that makes money from advertising. We have a modified experience for viewers using ad blockers

Wikia is not accessible if you've made further modifications. Remove the custom ad blocker rule(s) and the page will load as expected.