AK47 Scope is the first AK47 variant to have optical zoom scope installed, along with metal buttstock.
Overview
It also comes with black skin with red rose stripes much like the design of the Winchester Scope. It has 35 rounds magazine (+5) and enhanced accuracy. AK47 Scope is also one of the "fastest" AK47 out there (in terms of fire rate), but it's reload speed does remain the same as all the other AK47.
Variants
Trivia
This gun is called Elite AK47 in CF PH (along with Elite M4A1).
Gallery
Videos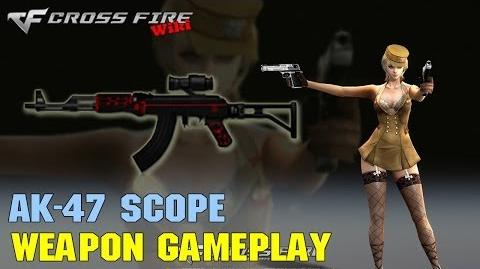 Ad blocker interference detected!
Wikia is a free-to-use site that makes money from advertising. We have a modified experience for viewers using ad blockers

Wikia is not accessible if you've made further modifications. Remove the custom ad blocker rule(s) and the page will load as expected.