AN94-Halloween is a limited edition assault rifle variant of AN94.
Overview
Just like the original AN94, but this variant has a special Halloween skin and added extra 5 ammo. This gun was available in now defunct South Korean CF, as a GP Capsule.
Availability
CF Korea
Not available elsewhere.
Advantages
High damage for an assault rifle
High ammo capacity than the original AN94
High accuracy
Low recoil
Disadvantages
Slower reload speed than the AK47
Limited edition weapon
Was available in South Korean CF, not yet released in other version.
Comparison with AN94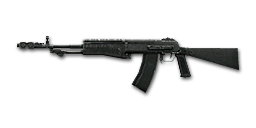 Positive
Higher clip size (35/105)
Neutral
Same damage
Same accuracy
Same recoil
Same reload speed
Negative
Limited edition weapon
Not yet released in other versions of CF
Gallery
Trivia
AN-94 Halloween was never added to any other versions beside CF Korea (PMang license) because of the OP rule by SmileGate. However, as AN-94 Spaceship being VVIP weapon and more OP weapons have been released, it is possible that this weapon will be updated to many servers in Halloween updates.
Ad blocker interference detected!
Wikia is a free-to-use site that makes money from advertising. We have a modified experience for viewers using ad blockers

Wikia is not accessible if you've made further modifications. Remove the custom ad blocker rule(s) and the page will load as expected.