AWM-A Platinum Blue is a sniper rifle variant of AWM featured in CrossFire.
Overview
This weapon features a shiny blue skin with rank icon on it body. It adapts the new AWM-A model with longer scope, folded down bipod and new scope texture, and has +5 ammo per magzine.
In all CF servers, this gun is a selectable prize along with AK47-Knife Platinum Blue and M4A1-S Platinum Blue for all players achieved Gold Rank onward. Only top 100 players can get it permanently.
Availability
CF China
CF Brazil
CF Vietnam
CF Europe
CF North America
CF Russia
CF Japan
CF Philippines
Gallery
Trivia
Despite being one of the Ranked match prizes, CF VN actually offers this gun in Casino Royal for 4795 points (959 Vcoin).
Videos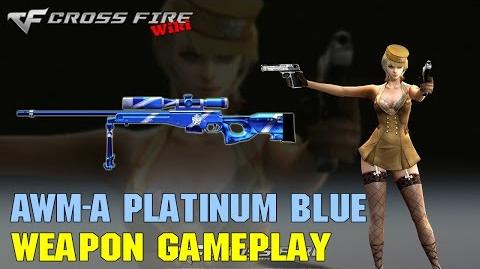 Ad blocker interference detected!
Wikia is a free-to-use site that makes money from advertising. We have a modified experience for viewers using ad blockers

Wikia is not accessible if you've made further modifications. Remove the custom ad blocker rule(s) and the page will load as expected.