AWM-Blue Diamond is a sniper rifle variant of AWM that featured in CrossFire.
Overview
AWM-Blue Diamond is a bolt action sniper rifle that fed with .300 Winchester Magnum. It is manufactured by Accuracy International of United Kingdom, and it is famous because of its capability to neutralize the enemy with one shot. The magazine of this weapon has been increased and the weapon has a blue diamond appearance so it increases its value.
Availability
CF China
CF Brazil
CF Europe
CF Philippines
CF Vietnam
CF Indonesia
CF North America
CF Russia
Trivia
Just like other blue diamond weapons, it also has "blue diamond icon" on its gunstock which is a service from Tencent. But the icon is hard to notice in the 1st personal view, so other servers just update this weapon without any change.
CF Vietnam removed this gun from Black Market. Later on, it can be obtained permanently via Casino Royal web mall at the price of 3361 CFC points (~30,5 $) or temporally via Ares crates where it serves as a junkie prize.
In CF Europe, this gun is obtainable permanently for 150 coupons.
Gallery
Videos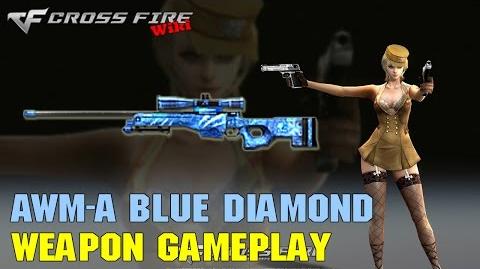 Ad blocker interference detected!
Wikia is a free-to-use site that makes money from advertising. We have a modified experience for viewers using ad blockers

Wikia is not accessible if you've made further modifications. Remove the custom ad blocker rule(s) and the page will load as expected.