AWM-Gold is a golden sniper rifle variant of AWM featured in Crossfire.
Overview
It features a gold texture all around its body and has 5+ ammo than the normal AWM which is an advantage if you run out of ammo quickly. It is available in many versions. In CF Philippines, players are given this weapon to whose who are ranked Sergeant 3 which have finished 10 or more missions.
There are two version of this gun, the first version features a gold skin around the body and a dark-wood stock, while the second version had the full gold skin on the gun.
Availability
Available with gold body and dark-wood butt stock.
CF China
CF Indonesia
CF North America
CF Philippines
CF Vietnam
CF Brazil
CF Russia
CF Europe
Available with full gold skin.
Trivia
In CF Korea, it has same ammo as normal AWM.
CF Japan & Korea are the only versions with the full gold skin.
In CFVN, they sold this gun permanently in MP Mall for 26 000 MP.
Gallery
Videos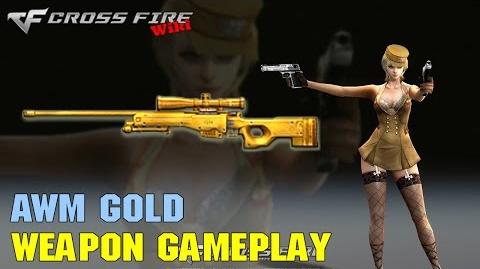 Ad blocker interference detected!
Wikia is a free-to-use site that makes money from advertising. We have a modified experience for viewers using ad blockers

Wikia is not accessible if you've made further modifications. Remove the custom ad blocker rule(s) and the page will load as expected.