Anaconda-Black is a variant of the Anaconda featured in CrossFire.
Overview
The Anaconda-Black is an improved variant of the normal Anaconda. It features a blackened stainless steel barrel and frame, as well as brown wood grips.
The Anaconda-Black has slightly higher damage than the normal variant, and also has a higher capacity of 8 rounds (only in some servers). It is able to kill the target with 2-3 shots in the body. It still retains the same high accuracy, fast reloading speed, and slow firing speed of the normal Anaconda.
Availability
CF China
CF Philippines
CF North America
CF Vietnam
CF Indonesia
CF Brazil
CF Europe
CF Japan
Trivia
Only some versions of Crossfire that have the Anaconda-Black variant with extra ammo.
In CF Vietnam, this gun was added to serve as replacement for lower ranking players to play with, as the normal Anaconda requires Lieutenant 2nd rank to be able to purchase and it's quite expensive (48.000 GP). For balancing purpose, Anaconda Black doesn't get ammo boost here, but it retains the 10% damage boost (61 vs 56), giving players more reason to rent it.
In CF PH, it is the very first weapon available in GP Black Market/Mega Lotto.
Gallery
Videos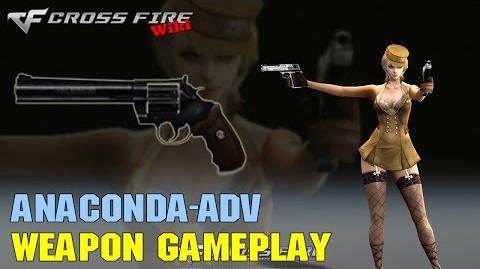 Ad blocker interference detected!
Wikia is a free-to-use site that makes money from advertising. We have a modified experience for viewers using ad blockers

Wikia is not accessible if you've made further modifications. Remove the custom ad blocker rule(s) and the page will load as expected.