"ARCH represents the two soldiers who have been contributing to a distinguished military service in two different regions and have been in a fierce rivalry." - Character description
Arch is a unique female character in CrossFire.
She is available in the Item Shop. What makes her very unique is that players must be at the rank of Marshal (Level 100) to be able to buy her.
Availability
CF China
CF Vietnam
CF North America
CF Russia
CF Europe
CF Philippines
CF Brazil
CF Japan
CF Español
CF Korea
Arch's Set
Once bought, players will receive these equipment for use on Arch - they are exclusive and cannot be worn on other characters.

> GR Equipment Set
Aviator Sunglasses
Dragon Hairpin
Baton
> BL Equipment Set
Marshal's Cap
Eyepatch
Golden Gun Pouch
Also take notice that Arch cannot wear normal functional items such as Flash Guard or Smoke Helmet. Instead, they have premium items that come with those effects which players must buy to use.
Trivia
When you look at them very closely, they look identical to each other. Therefore, they are identical twins, actually.
When you buy this character, you will get their equipment for FREE.

But in CFPH, Arch's equipment comes with a price of 30,000 GP each but only gives EXP Boost. Other functional equipment like the Marshal's cap and the Eyepatch that has smoke/flash protection requires cash to purchase.

Depicting to their metallic legs, some think that they were injured, therefore replacing their legs with some kind of robotic legs or it's a leg armor.
Unlike other rank-restriction item, Arch only requires level 100 to be bought. This means if she is won via publisher-specific events, lower ranking players can select her as main character without any issue. She is the only female character that can be bought by GP.
Gallery
Videos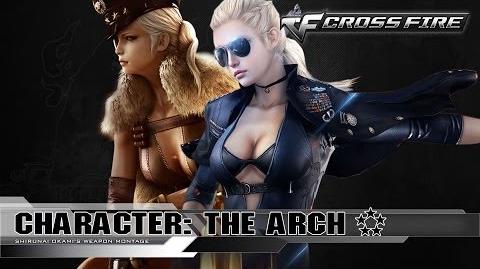 Ad blocker interference detected!
Wikia is a free-to-use site that makes money from advertising. We have a modified experience for viewers using ad blockers

Wikia is not accessible if you've made further modifications. Remove the custom ad blocker rule(s) and the page will load as expected.