Barrett M82A1-Iron Shark Noble Gold is a Noble Gold variant of Barrett M82A1-Iron Shark in CrossFire.
Overview
It features the same model and animations of the Barrett M82A1-Iron Shark, but it has a full gold plate texture and silver steel texture on its body. The strange is this weapon uses normal scope texture from original gun, not "noble-painted scope".
The weapon itself has no VVIP perks but still has the exact same stats of its VVIP counterpart and retains its Laser Pointer perk.
Availability
Trivia
This gun is mistakenly named as 'M82A1-Iron Beast Noble Gold' in CF Japan.
Gallery
Video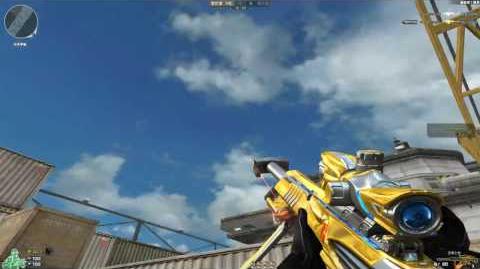 Ad blocker interference detected!
Wikia is a free-to-use site that makes money from advertising. We have a modified experience for viewers using ad blockers

Wikia is not accessible if you've made further modifications. Remove the custom ad blocker rule(s) and the page will load as expected.