The
Black Market
 is a special shop that sells rare guns and items, which cannot be purchased using the regular
Item Shop
.
Other names:
Capsule Shop (most versions)
Mysterious Shop (CF Indonesia)
Mega Lotto (CF Philippines)
Lucky Capsule (CF Vietnam)
Black Market (CF South America,CF North America)
Description
The Black Market sells two categories of containers: GP and real-money Capsules. The goal is usually to get the advertised main win, a permanent advanced gun or character. On occasion, a container may contain two, three or even four permanent items, but only one of them is marked 'best'. - But has been recently changed in Z8games to make all permanent items in the Capsule have the 'BEST' marking, Also the announcement of the win now includes all the 'BEST' items in the crate instead of just the first one (Green text that appears when someone wins from Capsules).
Each container contains 3 random items. The pool of possible items depends on the type of container. After being bought, these containers can then be opened.
You can check any guns of Black Market in different CF versions via: Capsule Shop.
Crates and Prizes
Upon opening (as soon as the player releases the left mouse button), 3 random items are chosen and put into the player's storage. If the player gets disconnected before the spinning wheel stops, a random item from Item Shop (excluding characters) is put into their storage. If the player gets disconnected after claiming their prizes without going back to the lobby and/or their storage, they risk losing the winning items, though this rarely happens.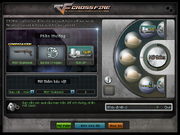 The main prizes always show up in the lowest slot, allowing players to see their main prize as soon as the spinning wheel stops, and there will be a "Congratulation" mark on its slot when displaying on the Item Won area. The second permanent prize will not have a Congratulation mark however. When a player wins the main prize, the message "PlayerName has won ItemName from Black Market" is displayed globally. Only the best prize winning will be announced even if the container had a second permanent prize in it.
The chance to score the main win is naturally quite low [see capsule shop/mechanics], but possible if someone has enough time and financial resources. Throughout tons of testing and experiments, it can be assumed that each crate has its own "sweet spot", allowing players to increase their chance of winning best prize if the wheel lands on that exact spot. There is also an Achievement which increases winning chance in Black Market.
New Black Market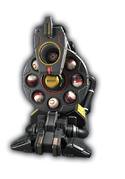 A new version of the Black Market is being experimented in the North American version. It is fairly similar but does add various neat features. The spinning animation was changed to a large spinning machine akin to a revolver cylinder. It is now possible to setup the machine (space-bar key) before spinning it.
This system introduce the Lucky Gauge: every time a player fail to win a permanent item in a crate, the gauge increases. When the gauge is full, the next crate spin (excluding Game Points and Free Ticket crates) will have increased winning rate will increase for that spin and then reset.
If the player still does not win the best item with a full gauge, they will be given a free crate ticket, which they can use on any cash crates of their choosing.
Every item won (both permanent and temporary items) are now moved onto a new storage tab in the Black Market. From there, players may transfer their items to their personal storage or dismantle some of them into coupons. This allow users to get rid of any unwanted duplicates from now on.
The coupons also changed, for starters, the cap was increased to 150, to accommodate the fact that items can be turned into coupons. The section is now a full list of purchasable items, getting rid of the three items per row and its possible duplicates, giving much more options as it is not capped at three items per coupons milestones anymore! Currently available in the following versions:
CF North America
CF Russia
CF China
Version Differences
CF North America: Black Market in Z8 CF has a special interface and the containers are called crates. Z8 CF features a complex prize system and the first two prizes will change every time a crate is opened (3rd slot will always be GP), worst case being 3 GP items. Coupons are hard to collect, and therefore they can be used to exchange more permanent prizes than any other version. Z8 CF also offers prices for more than 10 crates (up to 50 crates) in one purchase. However, this is only possible in Event Crates. It is not possible to buy more than 10 regular crates at once.
CF Vietnam:

All permanent prizes in one crate are marked 'best', though only the first one will display the winning announcement. Special "event capsules", awarded to players on certain events set by publishers are available with exclusive prizes from other crates. These crates contain unique prizes and when opening, only one of them (Lowest slot) will be given to players. There is also dragon's wings on the edge of the Prize list box, which will glow yellow if players win the permanent prize, and glow blue if players win either the DE-Gold, RPK-Camo, M4A1-S or Gatling Gun. Since 2013, CF Vietnam always updates at least one Combo capsule (2 or more permanent prizes) per update.
CF Korea: Permanent items won from Black Market can be sold for GP, unlike most other servers that won't allow selling these. This was done to help players get rid of duplicate prizes, should they win more than one permanent items of the same type.
CF Japan: Many permanent weapons are packed into Special/Sessional crates (sometimes even up to 4 - 6 permanent weapons), making winning all of them difficult since players have to constantly open the same crate over and over till they get all the permanent weapons, risking winning weapons they already won in the process. CF Japan also offers crates with Best prize only up to 90 days (i.e Police Stick, Kriss...), unlike most other version that has a permanent item as best prize. Permanent prizes can be sold like in CF KR to avoid duplicating.
CF Philippines: In CF PH, the Black Market is called as Mega Lotto and also the crates are called spins/lotto spins. It has the same mechanics what the Black Market is, but the interface design of CFNA's Black Market was slightly different on CF PH Mega Lotto. Also CF PH features different GP and Coupon icon, with purple colors instead of teal/grey. There is also a special Lotto that allows player to win the main prize of 1.000.000 GP, something not available in any other CF version.
CF China: Black Market in CF China has a different interface, much like the beta version in CF Vietnam (which is now obsoleted and not seen in new CF versions). Instead of a crate lists, there are 3 'slot machines' like crates on each page, which show the main prize and random prizes in one interface. When a crate is opened, 3 prize slots show up and the item icons flash through it (like an IRL slot machine), and once it stops, 3 prizes will be given to players. Like Z8, China also offers to buy 50 event crates at once.
CF Indonesia: Black Market in CF INA is called Mysterious Shop. Like in CF Korea, permanent items won from the Black Market can be sold for GP, to help players get rid of duplicate prizes, should they win more than one permanent items of the same type.
CF Europe: The Capsule Shop features a coupon on every spin (unless the permanent item was won), which can be exchanged for three permanent prizes. Like Z8, Europe also offers to buy 50 event crates at once. Due to poor script edit, the prize box does not match with the background - this error has been around for years and likely won't be fixed because it's too minor.
Trivia
In CF Philippines, there is a special lotto item called "Mega Jackpot" that allows the player to win 1,000,000 GP. In Fact, it is the most cheap cash lotto item in the capsule shop (15 eCoin per spin) but still remain unpopular to CF Players.
Excluding CFNA (CF Z8), all other CF version features a fixed prize system in case players didn't win the main prize. It includes a Coupon, a random prize within the crate and GP (this amount var).
The global win announcement appears as soon as the main prize win item is generated by the system, which is before the spinning wheel has stopped and before even the winning player sees the prize. This can be checked using a second player waiting in the lobby for the winning announcement.
In most case, a limit is set so that players cannot win more than 6 weapons of the same type. For example if a player win 6 Winchester off the Thompson/Winchester crates, the Winchester will never show up anymore no matter how many crates are opened. Some crates don't have this limit however, leading to players winning 10 - 20 weapons of the same type and they have no way to get rid of them.
Because Characters cannot be duplicated in the Item Storage, if a player wins a Character off the Black Market the second time, they will not receive it as the game will deem it "Duplicated prize". The same thing happens when players wins a coupon while they already have 100 coupons. The winning announcement will still display this, however.
If players encounter lag/high ping while opening a crate, the prize may not show up (all slots will display a SWAT icon). Prizes will still be saved to Players' storage though.
CF North America begins removing Permanent Prizes in Coupon exchange in recent patches, and now only 3 (150 coupons target) remain. It's speculated that Z8 were asked to do so to keep up with other servers, though coupons are still very hard to collect here (Which, in turns, can exchange for 30d and 90d prizes)
CF Philippines used to call Mega Lotto, "Black Market" back in 2009. It was changed to Mega Lotto later on.
Ad blocker interference detected!
Wikia is a free-to-use site that makes money from advertising. We have a modified experience for viewers using ad blockers

Wikia is not accessible if you've made further modifications. Remove the custom ad blocker rule(s) and the page will load as expected.