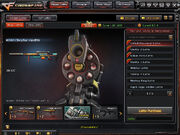 Lotto Market (Philippines: Mega Lotto) is a special shop that sells rare guns, characters, and items, which cannot be purchased using the regular item shop.
Overview
This shop sells two categories of containers: 
eCoin Lotto (Real Money)
GP Lotto
The goal is usually to get the advertised main win, a permanent gun or character. On occasion, a container may contain two, three or even four permanent items, and all of them are marked Best (previously there can only one weapon which marked Best). Each container contains 3 random items. The pool of possible items depends on the type of container. After being bought, these containers can then be opened.
This is a sub-section of the eCoin lotto, which contains lesser-quality containers in exchange for lower prices, intended for low-end markets. Each containers will only give out 2 prizes instead of 3 like the regular containers but the winning rate has been lowered to prevent players from spending too much eCoins to purchase lotto spins.
Available Capsules:
Individual Capsules

Rifles
---
Sniper Rifles
---
SMG
---
MG
---
Shotgun
---
Pistol
---
Melee
---
Characters
---
Mini Capsules
---
Capsule Packages
Removed Capsules:
Removed Weapons
Rifle
---
Sniper
---
SMG
---
MG
---
Shotgun
---
Pistol
---
Melee
---
Grenade
---
Removed Mini Lotto
---
Removed Capsule Packages
---
Seasonal Capsules
Mini Lotto
Hidden Capsules
---
Trivia
The following GP Lotto weapons requires the rank of Master Sergeant 1st Grade (Second Lieutenant 1st Grade for Dual Colt Volcano) to be able to purchase lotto spins/capsules:

CM901
Knight SR-16
MG3-Camo
Knife Black
MSBS-5.56
Kinetics CPW
Dual Double Barrel Gold
Thompson-Rusty
Dual Scorpion VZ.61
MG36
ASh-12.7
APR 338
Negev NG7
HK G28
The following GP lotto weapons requires the rank of Staff Segeant 1st Grade to be able to purchase lotto spins/capsules:

Black Anaconda
Winchester
Remington 870
P228 Camo
SW M66
M16-Scope Camo
AK47 Knife
Micro Galil Silencer
Ad blocker interference detected!
Wikia is a free-to-use site that makes money from advertising. We have a modified experience for viewers using ad blockers

Wikia is not accessible if you've made further modifications. Remove the custom ad blocker rule(s) and the page will load as expected.