Tencent Holding Ltd. renewed their license for CrossFire - Read more.
Oriental Shiny Star Ltd. grabbed the publishing rights for CrossFire 2.
CrossFire Stars (2016) will have a $700,000 prize pool - Read More
Smilegate are working with Original Film to make a CrossFire movie.
Remedy Entertainment (Max Payne, Alan Wake / Quantum Break) are currently
working with Smilegate to create the story mode for CrossFire 2 - Read More
Starbreeze received Smilegate investement ($40MM) to create a first
person shooter co-op game based on the CrossFire IP - Read more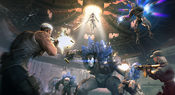 Trial Challenge Mode (AI Mode 3)
is the third installment of PVE mode in CrossFire. It goes back to the classic formula which pits soldiers against the zombies plus a boss with combined elements from
Defense
and
Wave
mode.
Poll

If Smilegate were to make a VVIP shotgun, which one should they choose?

 




Contact an Admin




Contact a Patroller

Previous Poll

Which Zodiac sign would you like to see next for the Zodiac weapon series?

Leo - (237 votes / 36.97%)
Contribution
Wanna contribute to this wiki?
Problems and suggestions
Make sure to follow our rules and keep the site on its track. Report if you find someone breaking it.
Get any suggestion? You can ask admin directly!
Write your article now!
To write a new article, just enter the article title in the box below.