We are currently housing 1,338 articles since June 2009.
72,638 edits have been made with 12,314 images uploaded.
CrossFire Wiki Announcements
Good News!

Tencent renewed their license for CrossFire China! Therefore,
Smilegate will still be developing new content for the game! Read More!
This year's Xmas weapon skins include: AA-12, 9A-91 & Dual Karambit!
CrossFire North America will be the 7ᵗʰ version to receive the 2.0 update!
Oriental Shiny Star Ltd. grabbed the publishing rights for CrossFire 2!
Smilegate & Original Film are going to make a CrossFire feature movie!
Game Features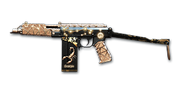 9A-91-Scorpius features similar design concept of the M14 EBR-Taurus and the Mauser-Libra, except that the zodiac sign and icon on this weapon is a golden scorpion.



Contributions
Wanna contribute to this wiki?
Problems and suggestions
Make sure to follow our rules and keep the site on its track. Report if you find someone breaking it.
Get any suggestion? You can ask admin directly!
Write your article now!
To write a new article, just enter the article title in the box below.
Poll

Fuzzy Gold was recently added; which class should get a golden card next?

 

Contact an Admin

Contact the Patroller

Previous Poll

With Ankara 2.0's release, which classic S&D map should get a 2.0 version next?

Eagle Eye (208 votes / 76.47%)
Latest Activity
December Updates
Later this month / No ETA
On November 26th
Later this month
On November 24th
On December 1st
Later this month
On November 24th
Later this month
On November 24th
Later this month
On November 27th
Later this month
On November 24th
No ETA
Later this month
Coming December 2nd
Later this month
Publishers
Developer
© Smilegate Entertainment. All right reserved.