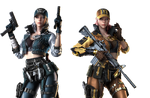 Noble Gold Character
are the recolored version of usual
characters
. The BL side usually features gold and brown outfit/hair design while the GR side features silver and blue outfit/hair design.
Poll

What mode should receive a 2.0 upgrade?

 




Contact an Admin




Contact a Patroller

Previous Poll

Should the next set of VIP characters be all male, female or mixed?

All Male - (171 votes / 74.03%)
Contribution
Wanna contribute to this wiki?
Problems and suggestions
Make sure to follow our rules and keep the site on its track. Report if you find someone breaking it.
Get any suggestion? You can ask admin directly!
Write your article now!
To write a new article, just enter the article title in the box below.