Desert Eagle-Peony is a new pistol variant of Desert Eagle.
Overview
This weapon features a black background texture with golden peony flower pattern. Comes with 9 rounds magazine (+2) and faster draw/reload speed, making it useful compared to normal DE variants.
Availability
CF China
CF Vietnam
CF Korea
CF Europe
CF Brazil
CF Español
CF Philippines
Trivia
In CF Vietnam, the Desert Eagle-Peony once again was nerfed, featuring basic firepower from normal DE (Which is already very bad here).
In CF Russia, players will receive a permanent DE Peony if they bought both Shovel-Werewolf and Knuckle-Hydra during the promo period.
Gallery
Videos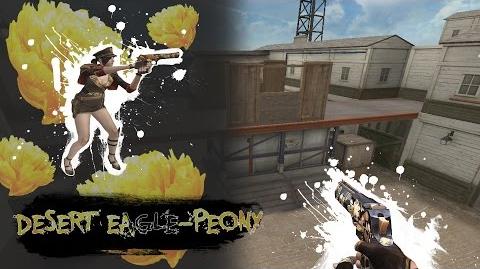 Ad blocker interference detected!
Wikia is a free-to-use site that makes money from advertising. We have a modified experience for viewers using ad blockers

Wikia is not accessible if you've made further modifications. Remove the custom ad blocker rule(s) and the page will load as expected.