Dragunov Tiger is a sniper rifle variant of Dragunov SVD featured in CrossFire.
Overview
Unlike the other Tiger weapons, this gun appears to use a black-silver Tiger texture pattern, which is a resemblance of the "Stripe" weapons. Also, it comes with a 15-round detachable box magazine (+5) and enhanced accuracy.
In CF Japan, it can be obtained by exchanging 100 coupons (120 days).
Availability
CF Japan
CF Russia
CF Brazil
CF North America
CF Philippines
CF Vietnam
CF Europe
Trivia
This weapon uses the new kill icon layout.
There are some interesting facts about Dragunov-Tiger in CFVN. First, this is the only Tiger weapon to be available in Black Market in cash crate. Secondly, this gun is combined with AC-556 in a combo called "Rapid Attack", which is nonsense and this crate is also become the non-limited edition crate to be available in the shortest time upon release: 5 months.
Gallery
Videos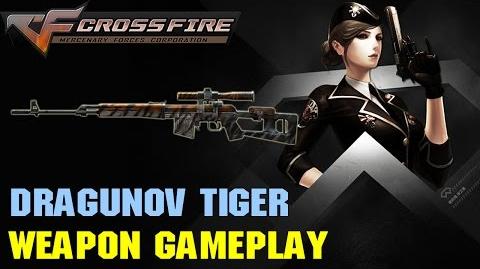 Ad blocker interference detected!
Wikia is a free-to-use site that makes money from advertising. We have a modified experience for viewers using ad blockers

Wikia is not accessible if you've made further modifications. Remove the custom ad blocker rule(s) and the page will load as expected.