Dual Colt-9th is a dual pistol variant of Dual Colt.
Overview
It features the 9th anniversary's skin on its body.
Exclusive in CF China: this gun has the 9th logo on its body.
Availability
CF China
CF Vietnam
CF Japan
CF Russia
CF Brazil
CF North America
CF Philippines
CF Korea
CF Europe
Trivia
Just like the Dual Colt Volcano and Dual Colt Hellfire, this gun has faster firing speed compared to other variants. Due to being a semi-auto weapon, it still depend on how fast the player clicking their LMB.
Uniquely, the global BagIcon features both gun normally whereas China's BagIcon has the second gun slightly transparent (like with older Dual Colt BagIcon).
Gallery
Videos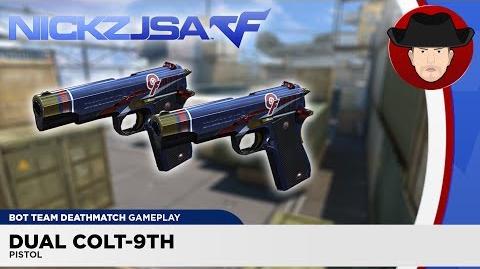 Ad blocker interference detected!
Wikia is a free-to-use site that makes money from advertising. We have a modified experience for viewers using ad blockers

Wikia is not accessible if you've made further modifications. Remove the custom ad blocker rule(s) and the page will load as expected.