Dual Desert Eagle-Red Vein is a special dual-wield pistol variant of the Dual DE, available in most CF versions.
Overview
Just like the Green Vein variant, this gun features a Red-Vein skin with ammo capacity upgraded to 18/54 and slightly enhanced stats.
The Dual DE Red Vein can be obtained via Red Crystal crates or Destroyer boss crates. It can also be obtained via AI Tickets System (The 2nd ticket).
Gallery
Videos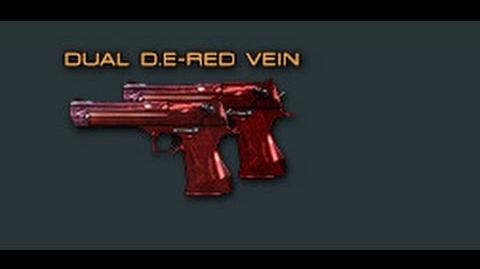 Ad blocker interference detected!
Wikia is a free-to-use site that makes money from advertising. We have a modified experience for viewers using ad blockers

Wikia is not accessible if you've made further modifications. Remove the custom ad blocker rule(s) and the page will load as expected.