Dual Karambit-Xmas is a special melee variant of the Dual Karambit.
Overview
It features white snow and red colors as part of the Xmas Set (2015) along with 9A-91 / AA-12-Xmas.
One interesting fact, the blade tips are painted red and switch to snow white at the middle, making this seemingly blood-like.
Availability
CF Español
CF Europe
CF Japan
CF Brazil
CF Philippines
CF Vietnam
CF Indonesia
CF North America
Trivia
In CF North America, it has been said that this version of the Dual Karambit is meant to be a little faster than the original version. Wherever or not if this is true, remains unknown.
Gallery
Videos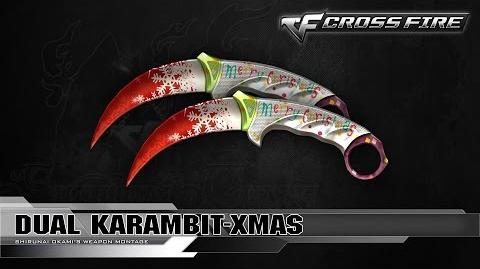 Ad blocker interference detected!
Wikia is a free-to-use site that makes money from advertising. We have a modified experience for viewers using ad blockers

Wikia is not accessible if you've made further modifications. Remove the custom ad blocker rule(s) and the page will load as expected.