Field Shovel Ultimate Gold is a melee variant of Field Shovel.
Overview
It has a new design with rounded blade like the 2013 Halloween variant, with shiny gold skin. Unlike most other shovels, Shovel UG has very fast primary attack speed (LMB) and slightly faster secondary attack (RMB), making it very dangerous in melee battles - to balance this however, its primary attack power is reduced a bit.
Statistics
Slash (Primary attack): Shovel-UG currently has the fastest primary attack among other Shovel variants. Dealing 81 to the head, 61 to the body/arms and 41 to the legs.
Stab (Secondary attack): One hit anywhere on the body. Slightly faster than the normal Shovel.
Range: Longer than the normal Shovel.
Availability
CF China
CF North America
CF Vietnam
CF Philippines
CF Indonesia
CF Europe
CF Brazil
Gallery
Videos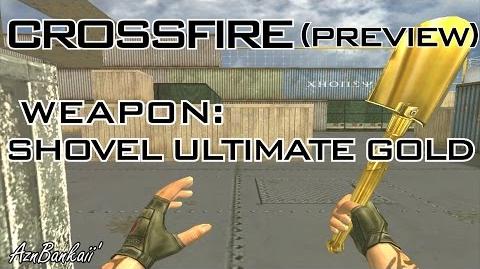 Ad blocker interference detected!
Wikia is a free-to-use site that makes money from advertising. We have a modified experience for viewers using ad blockers

Wikia is not accessible if you've made further modifications. Remove the custom ad blocker rule(s) and the page will load as expected.