Flying Tiger is one of the characters in CrossFire. They are also known as Special Duties Unit, an elite paramilitary tactical unit of the Hong Kong Police Force. Its primary functions include counter-terrorism, hostage rescue and dealing with crimes (usually involving firearms) which are considered too dangerous for regular police to handle. The unit was formerly trained by the SAS before the handover of Hong Kong to China.
In CF China, Flying Tiger has their own Chinese voice, similar to Delta in CF Korea.
Avaliable
Story
Flying Tigers in China to perform specific tasks, an armed forces of Union, which members of all of them are sharpshooters. For extremely aggressive, extremely dangerous, the enemy holding heavy weapons on standby for the country's emergencies. Flying Tigers deployed, often neat, uniformed enemy quickly put the site to pay other personnel to deal with team members quickly retreat, often give the impression that the mighty and the low-key image. Flying Tigers never to destruction for the purpose of emphasis on covert action, cover the full range of alert, first found in the rivals in the battle and fight to grasp the initiative and other tactics are everywhere contains a victory because of the enemy, the Oriental military philosophy means that important strategy. Militancy and the public impression, very different proposition to solve the problem by means of combat foreign special police image.
External Link
Characters info (CF QQ website)
Trivia
The first-person hand of the SDU shares the same with the BL SWAT, which appears the same thing with the GR side, but shared with the GSG9's sleeve and SWAT's gloves.
Videos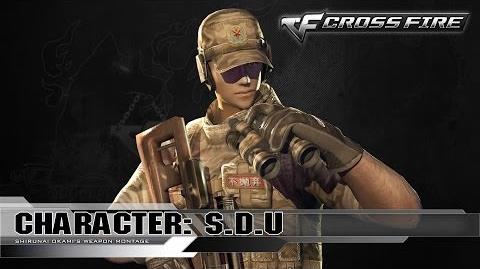 Ad blocker interference detected!
Wikia is a free-to-use site that makes money from advertising. We have a modified experience for viewers using ad blockers

Wikia is not accessible if you've made further modifications. Remove the custom ad blocker rule(s) and the page will load as expected.