| | |
| --- | --- |
| | This article is need of a clean-up. You can help out Crossfire Wiki by re-organizing parts of the article, checking grammar and spelling, and doing other helpful things to correct the article. |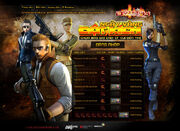 Golden Day is a CrossFire event available in CF Vietnam. During event time, players can gather playtime and their result in-game to exchange for gifts.
The Golden Day event is interacted via event website - once registered and logged in, players can check the letter cards they've earned and the prize associated to it. There are 8 letter cards (N, G, À, Y, V, À, N, G) available, each requires a different condition to collect:
Letter N: Playing time 2 hours
Letter G: Gain 300 exps
Letter À: Gain 500 exps
Letter Y: Gain 800 exps
Letter V: Score 200 kills
Letter À: Score 600 kills
Letter N: Complete Daily Mission
Letter G: Own any Black Market item
Full letter: Special Black Market crates (3 or 5 crates)
If players have gained enough playing time / EXP / kills for a letter, it will light up and a small number at the lower left corner indicates how many letters can be exchanged (Scoring 1200 kills will light up 2 "À" letters and 6 "V" letters and similar). The letter G can only be exchanged once, but it will always light up so players can exchange the full letter prize. Once a letter has been exchanged for gifts, it will disappear and other letters with same condition will change its counter (Scoring 1200 kills can earn players 2 "À" letters or 6 "V" letters. Exchanging one "À" letter, and they will be able to get 1 "À" letters or 5 "V" letters and so on...)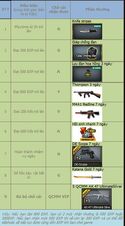 The event website will be updated every day at 10:00 pm (GMT +7), so players will need to check their result at the next day after they are done playing for the present day. Once the event ends, the website will remain opened for another 24 hours so players can exchange gifts for their last day - afterward, VTC will not support any problems related to this event.
Glitch
Because of high traffic, the event website sometimes displays error when players exchange gift (Exchange Failed) but the items are still added to players' storage. This glitch was once exploited to gain infinite Bronze crates, and some people got away with secondary prizes won from Black Market since VTC only removes their Bronze weapons. This glitch has been silently fixed in subsequent events.
Ad blocker interference detected!
Wikia is a free-to-use site that makes money from advertising. We have a modified experience for viewers using ad blockers

Wikia is not accessible if you've made further modifications. Remove the custom ad blocker rule(s) and the page will load as expected.