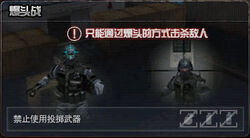 Headshot Only
is a room option limited to 5 maps. This option forces players to score a headshot to kill opponents - shooting/stabbing any other part of the body results in no damage whatsoever. It is very useful for training badge, since players can ensure that all they get is Headshot, with no normal kills mixed in.
Availability
CF China
CF Brazil
CF Taiwan
CF North America

CF Philippines
CF Russia
CF Vietnam
CF Europe
Maps
Trivia
One of the most infamous trick / glitch abusing in this mode is to face a wall and put the crosshair down, or look at the ground at a certain angle. That way, the player's head will bend into the wall, giving opponents less room to register a hit. It is useful to

Reload
Troll and irritate players
Distract enemies and help your teammates

The above trick can also be useful to force opponents to not shoot you or risk getting a 18_1 client error (Shoot through wall hacks)
In some versions, there is a glitch that lets you play HS only on every map. (Random map option)
If shot at the neck, you deal 29 damage to the player as Crossfire considers the neck portion as a 'head'.
Ad blocker interference detected!
Wikia is a free-to-use site that makes money from advertising. We have a modified experience for viewers using ad blockers

Wikia is not accessible if you've made further modifications. Remove the custom ad blocker rule(s) and the page will load as expected.