Improved version of Knife. Enemies can be easily suppressed with its high attack damage.
- Weapon description
Knife-Knight is a melee weapon variant of Knife in CrossFire.
Overview
It features a gold trim skin. The Knife Knight is slightly lighter, and it has more attack damage than the normal Knife (One shot kill with heavy attack on the chest and back).
In CF China, Knife Knight is available in Item Shop for 20,000 GP (Require Staff Sergeant 1 rank to buy).
In CF Brazil, Knife Knight (named Elite Knife) is available in Item Shop for 19,000 GP (with no ranking restrictions).
In CF Europe, Knife Knight is sold temporarily in the Item Shop.
Availability
CF China
CF Brazil
CF Philippines
CF Europe
Media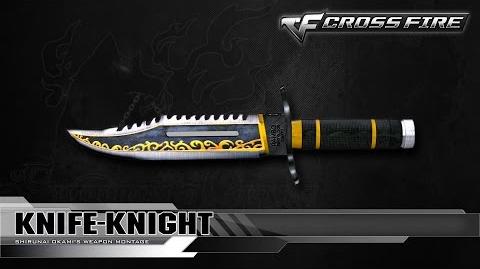 Ad blocker interference detected!
Wikia is a free-to-use site that makes money from advertising. We have a modified experience for viewers using ad blockers

Wikia is not accessible if you've made further modifications. Remove the custom ad blocker rule(s) and the page will load as expected.