Knight SR-25 is a kind of semi-automatic sniper rifle featured in CrossFire.
Overview
The Knight SR-25 fires 7.62x51mm NATO ammunition. It has high accuracy, fast firing rate, and also light weight. The design of the SR-25 is nearly similar to M16A2. This gun is often 2-hit kill, but it can sometimes score 1-hit kill if aimed properly, wallbang damage is also very good, and no-zoom firing is very accurate as well.
Advantages
High magazine capacity
High accuracy
Fast firing rate
Fast reload time
Light weight
Can be obtainable via Item Shop (some versions)
Disadvantages
Moderate damage
Only obtainable via Capsule Shop (most versions)
Availability
CF China
CF Japan
CF Vietnam
CF North America
CF Philippines
CF Korea
CF Europe
CF Indonesia
Variants
Trivia
Knight SR-25 has a very similar firing sound with the Barrett M82A1, coupled with its rarity, making people often accuse anyone using this gun hackers. This is because Barrett M82A1 is a bolt-action sniper rifle while the Knight SR-25 is a semi-automatic sniper rifle, so people hearing this gun firing continuously may think it's a hacker using Barrett M82A1.
Despite being the best Semi Automatic Sniper Rifle in Black Market in CF Vietnam, Knight SR-25 is one of the 10 weapons that got removed in August Patch. This is because not many players prefer Semi Automatic Sniper and there are a lot more rival weapons (AWM series, CheyTac M200 and SOCOM 16). It doesn't help that the Ares/Burning Shot variants are too superior compared to the original Knight SR-25.
In some versions, the Knight SR-25 doesn't drop upon death, just like a VVIP weapon.
Gallery
Videos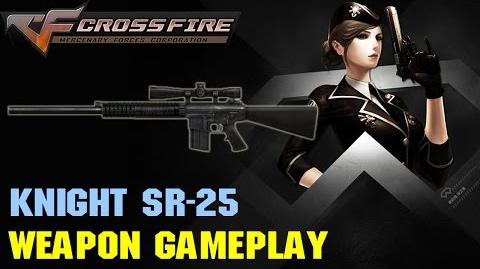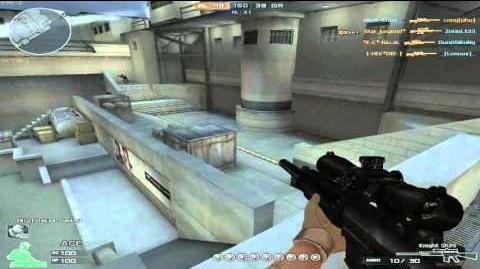 Ad blocker interference detected!
Wikia is a free-to-use site that makes money from advertising. We have a modified experience for viewers using ad blockers

Wikia is not accessible if you've made further modifications. Remove the custom ad blocker rule(s) and the page will load as expected.