Lewis Gun-Xmas is a machine gun variant of the Lewis Gun featured in CrossFire.
Overview
This weapon is released as a part of Xmas Set (2016). It features a Xmas themed skin painted on the Lewis' barrel and buttstock, including a gingerbread on the magazine. Same with Lewis Gun-Chill, Lewis Gun-Xmas receives ammo boosted, by adding 20 bullets and up the magazine size to 117 bullets.
When reloading the gun, a cheery voice will say "Merry Christmas".
Advantages
Very high damage dealing.
Higher magazine capacity than original.
Average reload speed.
Average draw speed.
Disadvantages
Very slow rate of fire.
Very high recoil.
Very heavy weight.
Low accuracy when spraying.
Availability
CF Japan
CF Philippines
CF China
CF Indonesia
CF North America
CF Vietnam
CF Europe
CF Korea
CF Russia
Gallery
Videos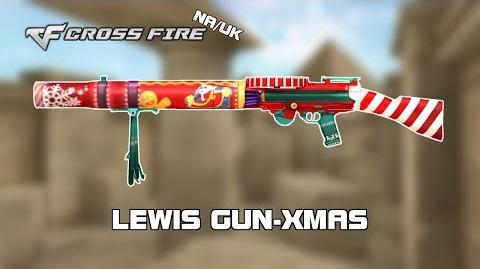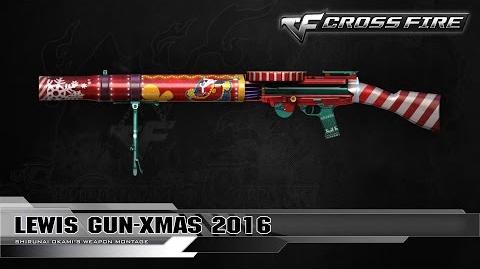 Ad blocker interference detected!
Wikia is a free-to-use site that makes money from advertising. We have a modified experience for viewers using ad blockers

Wikia is not accessible if you've made further modifications. Remove the custom ad blocker rule(s) and the page will load as expected.