M14EBR Scope Camo is a camouflaged variant of the M14EBR with a mounted optic.
Overview
The M14EBR Scope Camo features gray camouflage and a holographic sight. Unlike the AR57, the Scope Camo's optic is fully functional. It comes with a 35 round magazine and enhanced long-distance accuracy thanks to the holographic sight. However, the rate of fire is much slower when zooming in, making spray shot very hard to perform. It's best to use the holographic sight for medium to long range targets.
Availability
CF Japan
CF Russia
CF Europe
CF Vietnam
CF Philippines
CF Brazil
CF Español
Gallery
Videos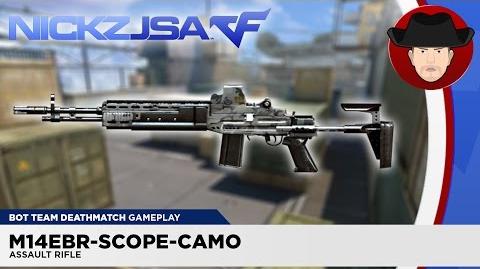 Ad blocker interference detected!
Wikia is a free-to-use site that makes money from advertising. We have a modified experience for viewers using ad blockers

Wikia is not accessible if you've made further modifications. Remove the custom ad blocker rule(s) and the page will load as expected.