M16-Silencer Camo (AKA M16-Advanced in CFVN) is an assault rifle variant of the basic M16.
Overview
This gun features a silencer and camo skin, with 35-round magazine (+5).
In CF Indonesia, it was available in Black Market (now removed), but players can occasionally get it via free capsule from events. CF Brazil reserves this gun for event prizes (3 or 7 days), while CF Vietnam offers this gun in the Item Shop and it used to be obtained by those who collected all the CROSSFIRE letter cards (3 days).
Availability
CF China
CF Vietnam
CF Indonesia
CF Brazil
CF North America
CF Europe
CF Philippines
Trivia
This gun shares firing sound with M4A1-S in most servers, but in CF Indonesia it shares firing sound with the M16A4 instead.
Gallery
Videos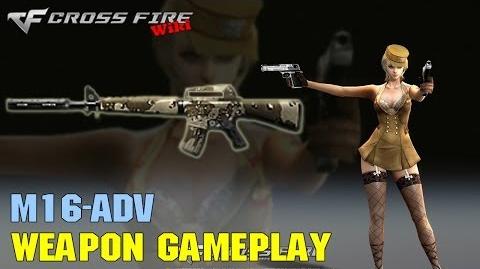 Ad blocker interference detected!
Wikia is a free-to-use site that makes money from advertising. We have a modified experience for viewers using ad blockers

Wikia is not accessible if you've made further modifications. Remove the custom ad blocker rule(s) and the page will load as expected.