M4A1-Camo is an assault rifle variant of M4A1.
Overview
This is an upgrade version of M4A1 with camouflage skin, slightly more powerful and an expanded 35-round magazine.
In CF PH, it is one of the obtainable weapons in Supply Boxes in Mutation Mode and variants.
Trivia
The Bag Icon of this gun shows that the mag is not re-skinned with camouflage, yet the in-game model (both first and third person view) shows that the mag is re-skinned with camouflage.
In CF Philippines, this gun is called "Assault M4A1".
In CF Vietnam, this gun can be bought temporary from Item Shop.
In CF Brazil, M4A1 Camo was given in an event of 30 crates.
Videos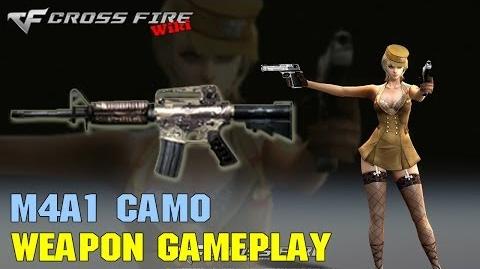 Ad blocker interference detected!
Wikia is a free-to-use site that makes money from advertising. We have a modified experience for viewers using ad blockers

Wikia is not accessible if you've made further modifications. Remove the custom ad blocker rule(s) and the page will load as expected.