M4A1-S-Dual Mag Ultimate Gold is a golden variant of the M4A1-S in CrossFire.
Overview
This weapon is a reskin of the M4A1-S Ultimate Gold, but features a dual magazine attachment for faster reloading times. It has a capacity of 35 rounds (+5), also has better accuracy and lower recoil compared to the M4A1-S UG.
Availability
CF China
CF Russia
CF Vietnam
CF Japan
CF Europe
CF Philippines
CF Brazil
CF North America
CF Español
CF Korea
Trivia
This rifle features the text "Fine Gold 999.9" on its receiver, just like the original M4A1-S UG.
Gallery
Videos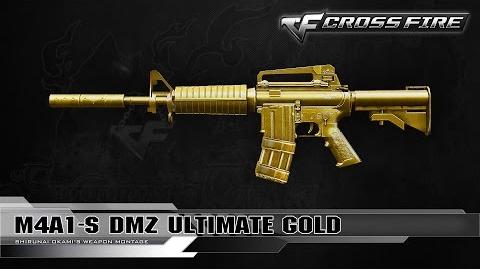 Ad blocker interference detected!
Wikia is a free-to-use site that makes money from advertising. We have a modified experience for viewers using ad blockers

Wikia is not accessible if you've made further modifications. Remove the custom ad blocker rule(s) and the page will load as expected.