M4A1-S G Spirit is VVIP weapon variant of M4A1 Silencer.
Overview
This gun once again features a unique one-of-a-kind skin with yellow-red-green color scheme and Guanyu Spirit decoration. Comes with +6 ammo and overall improved performance stats.
Uniquely among all other M4A1-S, this gun receives an overwhelm upgrade including unique animations and a paired back-up pistol that's mounted on the side of the gun. It features a total of 4 attacking method, the usual shoot-to-kill and buttplate melee attack. The third one is executeable during reload animation if R key is pressed during its available window - players character will throw the used mag forward, working like a make-up melee attack, and the fourth attack involves switching to the back-up pistol up and fire it in automatic mode.
Availability
CF China
No other versions yet.
VVIP Effects
+2 ammo for all equipped Assault Rifles
Buttplate Melee attack (RMB)
Magazine Attack: While reloading, press R when the icon lights up to throw the used magazine forward for minor damage.
Back-up Pistol: Press 1 to toggle between main gun and Back-up Pistol
Exclusive Killmarks & Borders
200% EXP bonus (owner)
30% EXP bonus (everyone)
20% GP bonus (everyone)
Trivia
This is the second weapon to have another back-up gun as attachment, the first being AK12-Urban. Technically, both FAL Custom-Camo and Knight SR-25 Burning Shot also features back-up gun as attachment but they are only functional in certain game modes. Much like with AK12-Urban's case, the back-up pistol does not get ammo boost from VVIP weapons or ammo magazine.
M4A1-S G-Spirit has the highest amount of attacking method among all weapons released up-to-date, with 2 melee attacks and 2 shooting attack.
When drawn, player characters will take out the Glock-18 G-Spirit and mount it onto the side of the M4A1-S G-Spirit, skipping bolt pulling animation altogether. Presumably it has already been pulled before the gun is taken to the screen.
Gallery
Videos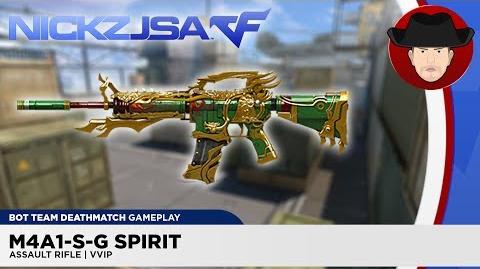 Ad blocker interference detected!
Wikia is a free-to-use site that makes money from advertising. We have a modified experience for viewers using ad blockers

Wikia is not accessible if you've made further modifications. Remove the custom ad blocker rule(s) and the page will load as expected.