M4A1-S Jewelry Noble Gold is a reskin variant of M4A1-S Jewelry.
Overview
The Jewelry Noble Gold shares the same model with the original M4A1-S Jewelry, but it features a new chibi anime doll with blue eyes who has her golden hair tied in odango style buns (ox horns in Chinese). She still sounds the same with her red-haired sister on the stock Jewelry.
The weapon itself has the exact same stats with M4A1-S Jewelry and obviously features no VVIP effects.
Availability
Trivia
This is the first Noble Gold Weapon that is sold in Black Market in CF China, others only can be gotten from events.
Gallery
Videos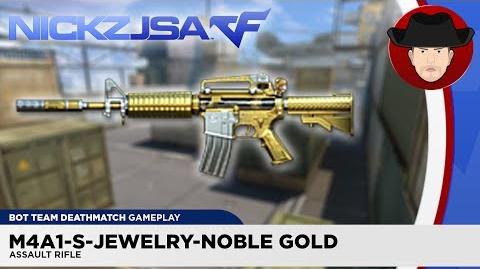 Ad blocker interference detected!
Wikia is a free-to-use site that makes money from advertising. We have a modified experience for viewers using ad blockers

Wikia is not accessible if you've made further modifications. Remove the custom ad blocker rule(s) and the page will load as expected.