An overall balanced and steady M4A1-Silencer been plated with Peony skin.
- Weapon description

M4A1-S Peony is an assault rifle variant of M4A1-S.
Overview
The M4A1-S Peony features a black background texture with golden peony flower pattern. This weapon has an expanded magazine capacity to 35 (or 36 in China) rounds per magazine. It also has faster drawing and reloading speed, except in CrossFire Indonesia.
Advantages
Moderate-high damage dealing.
High accuracy.
High rate of fire.
Medium recoil.
High magazine capacity.
Fast reloading speed (except Indonesia).
Fast drawing speed (except Indonesia).
Disadvantages
Loses accuracy when sprayed for too long.
Standard reloading speed (Indonesia only).
Standard drawing speed (Indonesia only).
Bad spraying pattern.
Availability
CF China
CF Vietnam
CF Russia
CF Korea

​CF Europe
CF Brazil
CF Philippines
CF Español
Gallery
Videos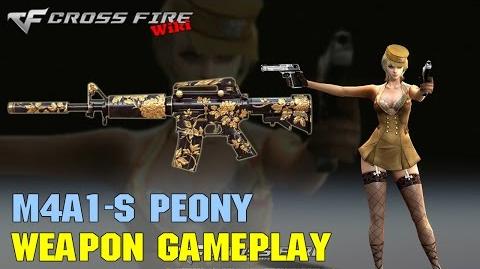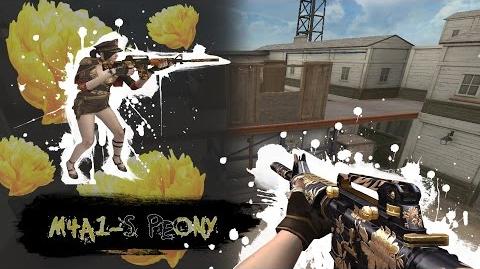 Ad blocker interference detected!
Wikia is a free-to-use site that makes money from advertising. We have a modified experience for viewers using ad blockers

Wikia is not accessible if you've made further modifications. Remove the custom ad blocker rule(s) and the page will load as expected.