M4A1-S Sakura (or M4A1 Spring) is an assault rifle variant of M4A1.
Overview
It features a cherry blossom texture and a silencer. It comes with an extended 35-round magazine and improved accuracy.
There is also another un-silenced variant called M4A1-CB.
Availability
CF North America - available from ZP crate during spring season (March).
CF Vietnam - available in Black Market, cash crates.
CF Philippines - available temporarily on item Shop as an EC Item (now removed).
CF Brazil - available temporarily in Black Market, cash creates (now removed).
CF Indonesia
CF China
Trivia
CF Korea planned to have an alternate variant of this gun without silencer, but this idea was later scarpped. Certain Black Market previews still show the un-silenced variants of M4A1-S (Called M4A1-CB).
CF Indonesia named M4A1 Blossom as M4A1 Sakura, and named M4A1 Sakura as M4A1 Cherry.
In CF North America, this weapons is buffed with a faster reload, faster draw speed and full wallbang.
Gallery
Videos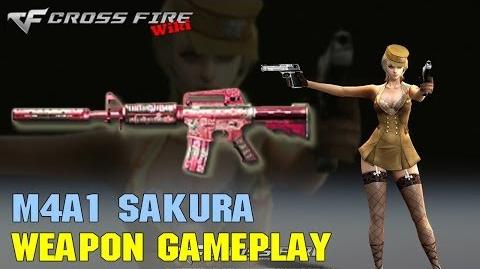 Ad blocker interference detected!
Wikia is a free-to-use site that makes money from advertising. We have a modified experience for viewers using ad blockers

Wikia is not accessible if you've made further modifications. Remove the custom ad blocker rule(s) and the page will load as expected.