The M4A1-S Tiger is an assault rifle variant of M4A1 Silencer.
Overview
This M4A1 reskin is often only available in events, special daily missions, or as a coupon exchange. It is exactly the same as the M4A1-Adv, but it features a tiger skin instead of camo skin. Has 35 rounds magazine (+5), but otherwise same stats with other M4A1-S.
Availability
CF China
CF Japan
CF Vietnam
CF Indonesia
CF Europe
CF Brazil
CF Korea
CF Russia
CF North America
CF Philippines
Trivia
There was an event in CFPH which allowed players to get a free spin depending on the amount of ECoins they purchased (e.g. 10-49 eCoins - 1 PC of Lotto).
In certain servers, M4A1-S Tiger features no damage bar so its users won't have to spend GP to repair it after each match.
This weapon can be obtained by playing Defense Mode in most CrossFire versions.
Gallery
Videos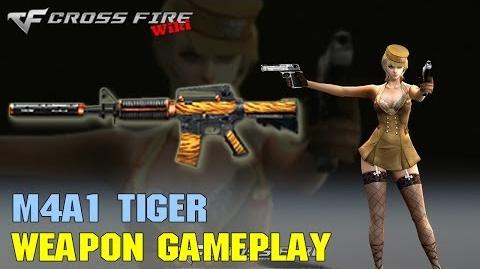 Ad blocker interference detected!
Wikia is a free-to-use site that makes money from advertising. We have a modified experience for viewers using ad blockers

Wikia is not accessible if you've made further modifications. Remove the custom ad blocker rule(s) and the page will load as expected.