M4A1-S Ultimate Gold is a golden variant of the M4A1 Silencer.
Overview
This M4A1-S variant has received the full Ultimate Gold treatment with the text: "Fine Gold 999.9" engraved on its receiver. It also boasts slightly enhanced accuracy and firepower.
In CF China and CF Philippines, M4A1-S Ultimate Gold has a normal ammo upgrade (+5), and it's reserved for CF CN's event prizes. CF Japan and CF Vietnam offers this gun in Black Market with a larger ammo upgrade (+8).
Availability
CF China
CF Japan
CF Philippines
CF Vietnam
CF Europe
CF Russia
CF Korea
Trivia
CF Japan uses the different skin of this gun with a little bit darker than any versions.
For whatever reason, this gun is called M4A1-C Ultimate Gold instead of M4A1-S in CF Vietnam, despite the fact that the M4A1-Custom Ultimate Gold is also available here. This is presumably an oversight.
In CF Philippines, this gun is obtainable in Black Market, Challenge Mode boxes (Hard Difficulty) and Defense Mode rewards (with keycard).
Funny enough in CFRU, despite being available in Black Market (bundled with Dual Karambit-Ultimate Gold), this weapon is also featured as AI4 Ticket best prize (along with MG3-Ultimate Gold), so it's risky for CFRU players if they want to get the MG3 or Dual Karambit without duplicating the M4A1.
Gallery
Videos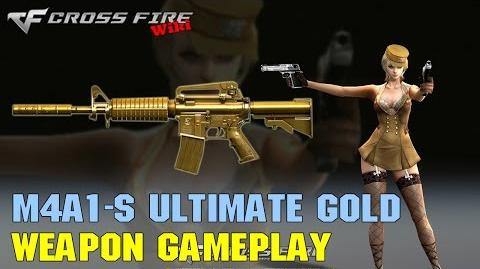 Ad blocker interference detected!
Wikia is a free-to-use site that makes money from advertising. We have a modified experience for viewers using ad blockers

Wikia is not accessible if you've made further modifications. Remove the custom ad blocker rule(s) and the page will load as expected.