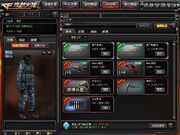 Mileage Shop
is the fourth Item Shop available in CrossFire. It uses
MP
as currency.
Descriptions
This shop can be considered a lower-tier of Capsule Shop as it offers rare, premium items both permanently and temporary. Unlike with Cash Point, GP or FP, MPs will reset if players don't login all days (rounded down to 12000, players owning less than this amount will be unaffected), meaning players will have to do their best to obtain needed fund to buy what they want from this shop. Since MPs can be obtained for free by completing Missions, Fever System and Attendance System reward, this is a fair trade-off for those who can't afford to open capsules but can farm.
Temp items available for renting have a cooldown period, meaning after buying it once, players will have to wait until the cooldown expire in order to buy it again. This is likely done to avoid free item farming, which could affect sales on Item Shop. Permanent items will be refreshed every once in a while, but this is strictly depending on each publisher's desire.
Availability
CF China
CF Vietnam
CF Philippines
CF North America
CF Indonesia
Trivia
By default, players can get 27000 MP if they do all missions (daily / weekly) and fill up F3 stage on Fever Bar, which is just enough for a permanent weapon.
Based on initial release content, it can be safe to assume that some cash merchandises (Bulletproof Helmet, Mutation Spike, ZM Ammo Belt...) are offered here as a chance to burn off low amount of MPs, should players fail to reach the needed amount to buy permanent item. This is also a good option for casual players who don't want to invest too much in items but are willing to farm MPs - they can basically be fully equipped for free and save money to open capsules or buy VVIP weapons instead.
Although CFPH didn't directly announced if the Mileage Shop will be released, they've actually promoted it in their official Facebook page, along with the New Mission System.
There is a bug in CFPH where the exact duration/cooldown of the items is not shown correctly. Instead of 3 or 7 days, the remaining time shown in the shop is 65531 or so days. It has been fixed a month after the Mileage Shop's introduction.
Gallery
Ad blocker interference detected!
Wikia is a free-to-use site that makes money from advertising. We have a modified experience for viewers using ad blockers

Wikia is not accessible if you've made further modifications. Remove the custom ad blocker rule(s) and the page will load as expected.