QBZ-95 is a Chinese-made bullpup assault rifle available in CrossFire.
Overview
QBZ-95 was the first Chinese bullpup assault rifle and is the predecessor of QBZ-97. It has been produced since 1995 but currently, it is no longer manufactured.
Performance
Advantages:
Decent damage.
Very accurate.
Light recoil.
Disadvantages:
Slightly heavy.
Slow drawing time.
Slow reloading time.
Slightly slow rate of fire.
Availability
CF China
CF Japan
CF Philippines
CF Europe
CF North America
CF Indonesia
CF Vietnam
Variants
Gallery
Videos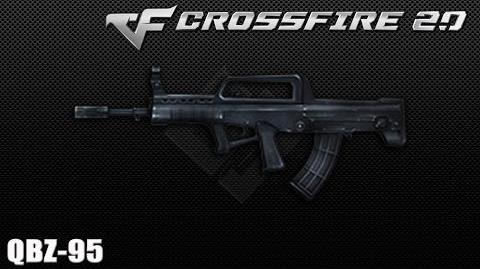 Ad blocker interference detected!
Wikia is a free-to-use site that makes money from advertising. We have a modified experience for viewers using ad blockers

Wikia is not accessible if you've made further modifications. Remove the custom ad blocker rule(s) and the page will load as expected.