Exhibited in 2014 by KBP Design Bureau, the RSH-12 is a new type of revolver which utilizes 12.7mm large caliber ammunition. It is high powered at the cost of massive recoil.
- In-game Description
RSH-12 is a very powerful handgun featured in CrossFire.
Overview
The RSH-12 is a massive high caliber revolver, featuring a 5 shot cylinder with 20 rounds in reserve.
This gun has a similar appearance with MATEBA and similar performance to the Raging Bull, including draw and reload animation. It is capable of consistent 1-hit body shot kills up to medium range, against either armored or unarmored enemies. It takes 2-3 hits in the arms/legs to kill. The RSH-12 fires a lot slower with stronger recoil compared to the Raging Bull, and it also has a heavier weight, but it reloads faster.
One observed downside is that the RSH's power rapidly depreciates at longer ranges, so it will sometimes take more bullets to kill at long range compared to the Raging Bull.
The RSH-12 is one of the 1-shot capable "handcannons" of Crossfire; alongside the Raging Bull and BFR (the RSH being the strongest, fastest reloading, and slowest firing among the three).
Availability
CF North America
CF China
CF Philippines
CF Japan
CF Russia
Variant
Trivia
The RSh-12 is a 12.7x55mm revolver developed for Russian special forces, with the purpose of destroying door locks and other hard objects. It competes with the Smith & Wesson .500 Magnum revolver for the title of "most powerful production handgun". It also has the same caliber as the ASh-12.7 assault rifle.
Strangely enough, the RSh is ranked lower in power in the stat ratings compared to the Desert Eagle, despite the 1-shot capability of the revolver.
Unlike most revolvers, the RSh's barrel aligns with the lowest chamber of the cylinder, just like the MATEBA Autorevolver.
Interestingly, the RSh could still be considered underpowered in CF compared to real life, as the 12.7x55mm caliber is capable of putting down an elephant with just one shot. (equivalent to 1-hit kill to any body part in-game).
Actually, this weapon was accidentally added in CrossFire Philippines on the 1st week of April 2016. It was supposed to be added on the 3rd week.
Gallery
Video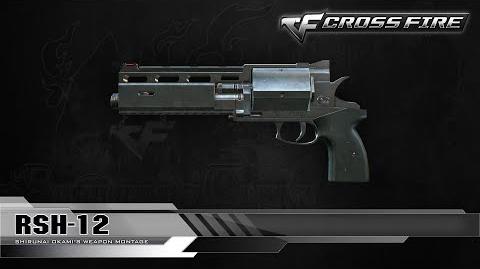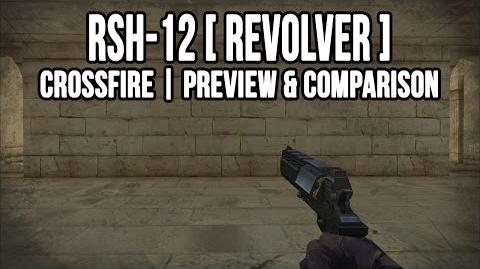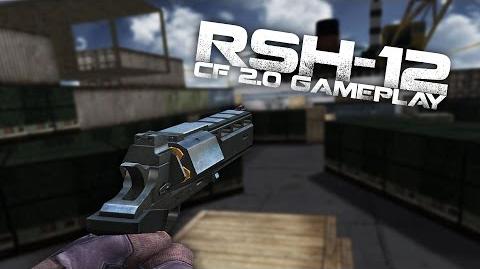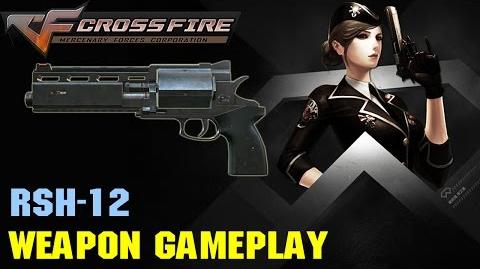 Ad blocker interference detected!
Wikia is a free-to-use site that makes money from advertising. We have a modified experience for viewers using ad blockers

Wikia is not accessible if you've made further modifications. Remove the custom ad blocker rule(s) and the page will load as expected.