Raging Bull-Halloween is a festive variant of Raging Bull.
Availability
CF Russia
CF Brazil
CF Europe
CF North America
CF Philippines
CF Vietnam
CF China
CF Español
CF Indonesia
Overview
This sidearm features a Halloween texture design, similar to CheyTac M200-Halloween and Baseball Bat-Halloween. Comes with a 7 rounds cylinder (+2), making it even more dangerous in Pistol match and a better choice than Anaconda (But still one round short comparing to Anaconda RD, Gold or GBD).
This weapon, along with the two new Halloween variants that were mentioned, were exclusive for the 2015 Halloween event.
Trivia
In CF Vietnam, Raging Bull Halloween does not disappear when its owner gets killed, unlike other Black Market weapons. This is persumably a glitch.
Gallery
Videos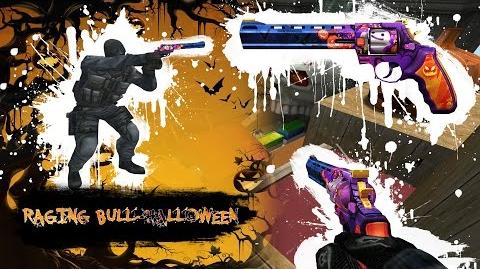 Ad blocker interference detected!
Wikia is a free-to-use site that makes money from advertising. We have a modified experience for viewers using ad blockers

Wikia is not accessible if you've made further modifications. Remove the custom ad blocker rule(s) and the page will load as expected.