RedPower, Rambo, Commando or Thunder Panther (雷豹) is a new male character in Crossfire.
In Crossfire China, Commando is available in the item shop at the price of 1000 CFPoints/7 days. The main reason could be that he's a skilled character; as he is immune to frag grenades thrown by teammate or his own (which means he can't commit suicide with grenade).
The fact that Commando as Skilled character was released along with Kriss Super-V Ultimate Gold suggests that they were supposed to be AI Ticket prizes, but this idea was dropped after an update for some unknown reasons, making him the only skilled character available in the item shop, rather than AI Ticket's prize.
Commando has been updated as Skilled character (AI Ticket's prize) in CF Vietnam as of July 2014 patch, along with AK47 Knife Ultimate Gold and Field Shovel Ultimate Gold. His specialties are permanent fall damage reduction and adrenaline boost (only in Challenge Mode).
Availability
CF China
CF Vietnam
CF Brazil
CF North America
CF Indonesia
Trivia
Although this character is a Russian, his face looks similar with Jason Statham, an action-movie actor who played as a protagonist from the movie Transporter.
Gallery
Videos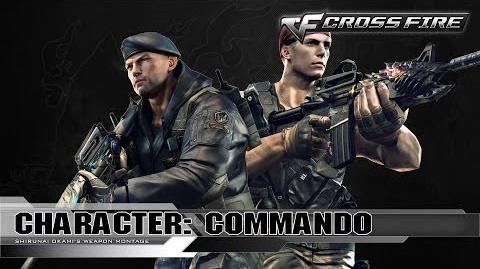 Ad blocker interference detected!
Wikia is a free-to-use site that makes money from advertising. We have a modified experience for viewers using ad blockers

Wikia is not accessible if you've made further modifications. Remove the custom ad blocker rule(s) and the page will load as expected.