SCAR Heavy-Camo is an assault rifle variant of SCAR Heavy featured in CrossFire.
Overview
This gun features a Camo texture, similar to M4A1-Camo, with 35-round magazine (+5) and enhanced accuracy. It's not much different than the GP variant.
Availability
CF Vietnam
CF North America
CF Philippines
CF Brazil
CF North America
CF Español
CF Korea
CF Europe
Trivia
There are two variants of the SCAR-H Camo in CF Vietnam, one is cash item and one is GP Item. The latter is not available to purchase anywhere in game, but it's classified as Black Market prize and thus can be obtained via certain events that allow winners to pick BM weapon of their choice. If obtained, this gun can be sold for 349.999.999 GP.
Also related to CF Vietnam, when this gun was released, it incorrectly reused the icon of the classic Scar Heavy (although still correct model in-game) and after 7 years, it was finally fixed.
Gallery
Videos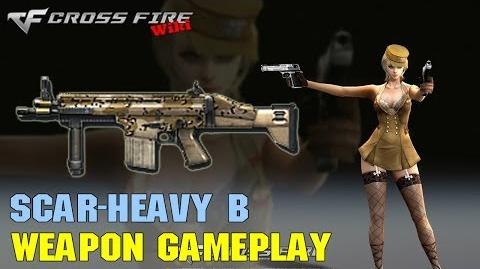 Ad blocker interference detected!
Wikia is a free-to-use site that makes money from advertising. We have a modified experience for viewers using ad blockers

Wikia is not accessible if you've made further modifications. Remove the custom ad blocker rule(s) and the page will load as expected.