The SCAR Heavy Red Dragon is an assault rifle variant of SCAR Heavy featured in CrossFire.
Overview
It features a red dragon texture and 5 more ammo than the original SCAR Heavy.
It is available temporarily in the pre-sale of the Thompson-Infernal Dragon in CF NA and BR. In CF Vietnam, this gun can be obtained by exchanging 100 coupons (90 days).
Availability
CF China
CF North America
CF Brazil
CF Vietnam
CF Europe
CF Philippines
Trivia
The beta design of this weapon had a Scope when the image was first released. However, it later got removed for a unknown reason.
This weapon has a few unique facts in CF Vietnam - it's the only RD piece not to be featured in Black Market, meaning no one can own it permanently. It also doesn't feature damage bar so no repairing is required after each match. Finally, it's not possible to own this gun more than 90d because repeated exchange coupons will add more Scar-H Red Dragon to players' storage rather than stacking them together.
Gallery
Videos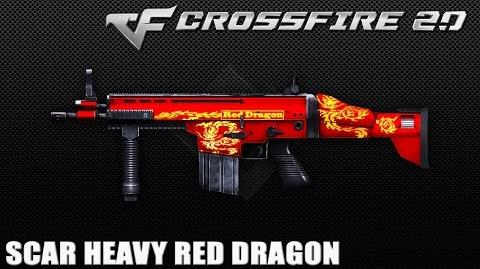 Ad blocker interference detected!
Wikia is a free-to-use site that makes money from advertising. We have a modified experience for viewers using ad blockers

Wikia is not accessible if you've made further modifications. Remove the custom ad blocker rule(s) and the page will load as expected.