SCAR Light-Red Dragon is a limited edition assault rifle variant of the popular SCAR Light.
Overview
It features an exclusive Red Dragon themed texture and has an increased ammunition capacity (+5).
Availability
CF Europe
CF North America
CF Philippines
CF Vietnam
CF China
CF Russia
CF Korea
Trivia
In CFPH (or possibly in other versions as well), this gun is obtainable in Reward Crates (Crystal Box).
After CFVN updated new Black Market interface, SCAR-L RD was added as a replacement for QBZ-95 Camo moving to 50 coupons requirement. However, the temporary weapon uses a different item icon rather than the permanent one.
Gallery
Videos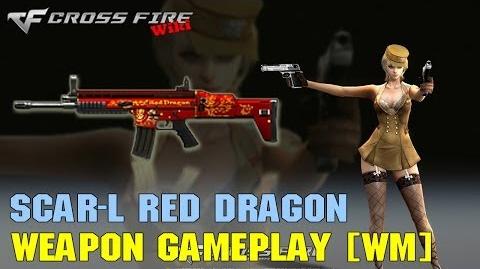 Ad blocker interference detected!
Wikia is a free-to-use site that makes money from advertising. We have a modified experience for viewers using ad blockers

Wikia is not accessible if you've made further modifications. Remove the custom ad blocker rule(s) and the page will load as expected.