Scorpion EVO3A1 is a submachine gun in CrossFire.
Overview
A submachine gun which is not related with its predecessor - Scorpion VZ.61, equipped with 30 rounds of JHP bullets along with very high rate of fire and high accuracy. But also it creates a high recoil but low on firepower.
Advantages
High accuracy.
Very high rate of fire.
Standard submachine gun magazine capacity (30).
Fast drawing speed.
Moderate reloading speed.
Able to stun the enemy.
Disadvantages
Low damage dealing.
High recoil.
Easily runs dry.
Availability
Gallery
Videos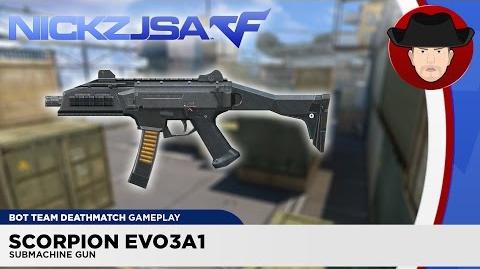 Ad blocker interference detected!
Wikia is a free-to-use site that makes money from advertising. We have a modified experience for viewers using ad blockers

Wikia is not accessible if you've made further modifications. Remove the custom ad blocker rule(s) and the page will load as expected.