Scythe Crab Claws - Cancer is a melee variant of Scythe Crab Claws and the second Zodiac melee weapon after I.A.S-Gemini.
Overview
This is the Zodiac version of the Scythe Crab Claws, which features a shiny Zodiac skin plus 2 keychain with Cancer icon on its coin. Featuring the same stats with Scythe Crab Claws.
Availability
CF China
CF Philippines
CF Japan
CF North America
CF Russia
Tips & Tricks
Since it's a Crab Claw, you can act like a crab. This is a fun technique but effective.
Crouch
Wait an enemy to come, aware their attacks
Then strike at point blank
Take note the second strike
And repeat
Trivia
This is the first Zodiac weapon that features 2 coins.

This is also the first Zodiac melee weapon that features coins, as the I.A.S-Gemini doesn't have any coins on it. 

In CF Philippines, this was a 2nd Zodiac melee weapon after the IAS-Gemini. This melee weapon offers a discount price of 480 EC (20% off) period from July 11 until July 17. Then it goes back the original price of 600 EC from July 18 until July 24 in a limited time.
Scythe Crab Claw-Cancer marks the 7th Zodiac Weapon to be released on CF Philippines.
Gallery
Videos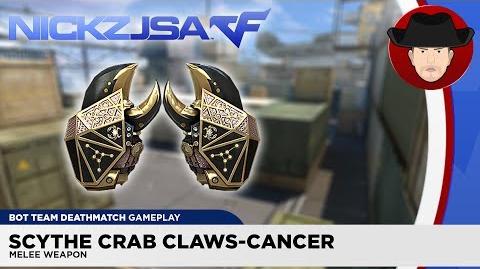 Ad blocker interference detected!
Wikia is a free-to-use site that makes money from advertising. We have a modified experience for viewers using ad blockers

Wikia is not accessible if you've made further modifications. Remove the custom ad blocker rule(s) and the page will load as expected.