Speedilo Grenade is a variant of Grenade. It features the body of an ordinary speedilo, a minion/creature from Atlas in the Devastated City.
Overview
This grenade is probably made from the skin of Speedilo that the mercenaries encounter who torn them and modified them into this small projectile weapon.
Slightly gives more damage than the normal grenades, this uniquely-skinned projectile weapon also interestingly causes a cracking sound, like the sound of the falling rocks, when exploding. It's weight is light as standard grenades whatsoever.
Availability
CF China
CF Vietnam
CF North America
CF Japan
CF Europe
CF Philippines
CF Russia
CF Brazil
CF Indonesia
CF Español
Gallery
Trivia
Although Speedilo Grenade is in irregular shape, the world model (W Model) features a circular design, like the ordinary grenades. This could be a glitch.
Medias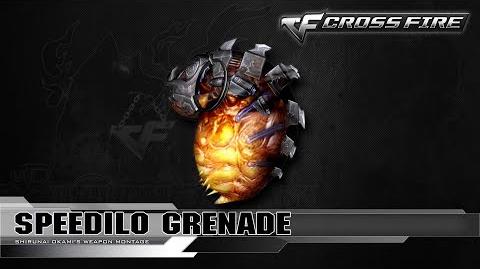 Ad blocker interference detected!
Wikia is a free-to-use site that makes money from advertising. We have a modified experience for viewers using ad blockers

Wikia is not accessible if you've made further modifications. Remove the custom ad blocker rule(s) and the page will load as expected.