The AUG is a modular, bullpup configuration rifle. It is equipped with a telescopic sight.
- CF NA Weapon Description
Steyr AUG A1 (known simply as AUG-A1 in some servers) is one of a stock assault rifle in CrossFire.
Overview
The Steyr AUG A1 is a precise, accurate assault rifle. Although it has a scope, its high recoil makes it ineffective at long range (even if scoped in) if it is operated in full-auto. The AUG does have a high accuracy for the first 2 or 3 shots but after that the reticle moves all over the place. Due to losing its niche as a scoped assault rifle and having low stability and a very slow reload compared to other assault rifles, the AUG is very uncommonly used.
Advantages:
Moderate damage.
High rate of fire.
Highly accurate.
Additional optical zoom scope.
Disadvantages:
High recoil.
Slow reloading time.
Loses accuracy if fired rapidly.
Variants
Gallery
Videos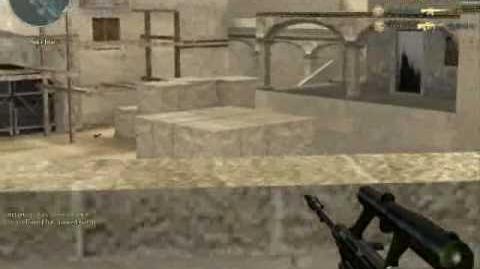 Ad blocker interference detected!
Wikia is a free-to-use site that makes money from advertising. We have a modified experience for viewers using ad blockers

Wikia is not accessible if you've made further modifications. Remove the custom ad blocker rule(s) and the page will load as expected.