Steyr TMP-Justice is a submachine gun variant of the Steyr TMP featured in CrossFire.
Overview
This gun features a partial black-white camo skin plus some black tapes on the barrel and grip, with gold Justice Logo painted on the slider. It comes with 35-round magazine (+5) and 105 in reserve.
Availability
CF Japan
CF Vietnam
CF North America
CF Europe
CF Russia
CF Español
CF Brazil
Trivia
Like with other weapons featuring texts, using Left Handed mode will result in the Justice Logo mirrored and unreadable.
Strangely enough in CFVN, Steyr TMP-Justice is placed along with 687 EELL Diamond Pigeon-Camo and Savage 110BA-Snow Camo in a crate called "Camo Style collection" but the skin itself doesn't relate to the name crate. Much like other capsules, it was likely included as filler or consolidation prizes.
Gallery
Videos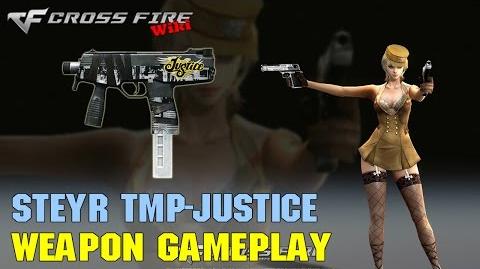 Ad blocker interference detected!
Wikia is a free-to-use site that makes money from advertising. We have a modified experience for viewers using ad blockers

Wikia is not accessible if you've made further modifications. Remove the custom ad blocker rule(s) and the page will load as expected.