Switcher is the second VVIP character set featured in CrossFire.
Overview
Same with The Fates, this character are composed of three female characters (1 for Global Risk, 1 for Black List and the other one is specifically meant for Mutation and Zombie Modes). Again, she has a unique and exclusive voice set separated from The Fates.
Availability
CF China: Zero
CF Vietnam: Sonoko
CF Russia: Zero
CF North America: Trinity
CF Indonesia: Switcher
CF Japan: Switcher
CF Europe: Switcher
CF Español: Nemesis
CF Brazil: Trinity
CF Philippines: Switcher
Features
Furious Kick: Only for BL and GR character (press E).
Throwing Dagger: Throwable knives (Press 2); cannot be used in Ghost Mode (BL),Ghost Vs. Mutants and Knife Matches.
Special Character: Available in AI Modes and Mutation Modes. Retains all bonus perks not excluding her.

Special: Throwing Dagger of this character will throw 3 daggers in 1 turn (7 turns max).

Reduce Fall Damage.
Immunity to self/teammate grenade.
200% EXP points bonus for the owner.
30% EXP bonus for everybody in the same room.
20% GP bonus for everybody in the same room.
Trivia
Gallery
Black List
Global Risk
Special
Videos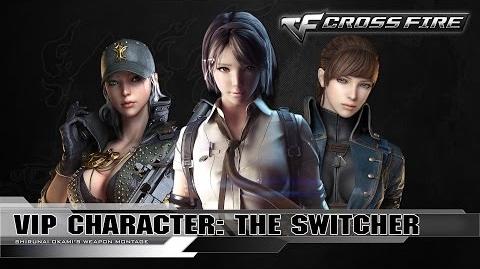 Ad blocker interference detected!
Wikia is a free-to-use site that makes money from advertising. We have a modified experience for viewers using ad blockers

Wikia is not accessible if you've made further modifications. Remove the custom ad blocker rule(s) and the page will load as expected.